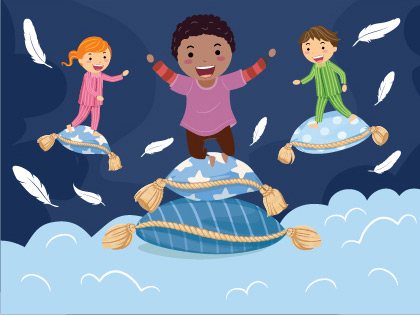 Pillowland is an interactive play about a boy named Stanley that cannot fall asleep. He and his friends go on an adventure to find out how to sleep, and you can tag along for the ride! Stanley always has trouble falling asleep – even counting sheep doesn't help! When he receives an invitation to visit the Kingdom of Pillowland, he sets off on an exciting adventure with his friends Finn, Quinn and audience members are invited along for the ride! 
This show is perfect for the entire family, including the first time theater goer as we even brought our 3-month-old and did not feel out of place. My 5 & 3-year-olds are veteran theatre goers, but they especially loved this novel experience of an interactive performance. Kids and adults were all laughing hysterically and embracing the fun. All of the kids were encouraged to participate and laugh throughout the show. Veteran or newbie, your kids do not want to miss this amazing show! And, as huge fans of Laurie Berkner, we loved getting to see her song "Pillowland" come to life. 
This would make a great birthday surprise to friends or holiday gift with grandparents. We are even taking our nieces and nephews visiting from out of town that are too young for Broadway shows but want to experience the theater in NYC!
FiDi Families Insiders: Feel free to come to the show in your PJ onsies! Perfect for rolling out of bed and straight to the theater on Sunday Mornings. Stay after the show for a chance to meet the cast. 
Date(s): Sunday's, through April 14, 2019
Time: 10:00 am – 10:30 am or 12:00 pm – 12:30 pm
Location: 20 Thomas Street (between Broadway & Church Streets) at The Flea Theater
Cost: $27 per person (infants are free)
Age(s): Best for ages 2 – 5 years old
For more information and to purchase tickets, please visit their website HERE